Creative Life and career coaching by Amy Phipps
Do you have big dreams for your creative business, but no idea where to start?
Are you ready to turn your passion project into a career? Or hobby into a thriving brand?
Perhaps you're an established business owner who is feeling overwhelmed and not sure what to do next? Lacking in clarity, self-confidence, and support?
Every month, you might wonder if you should be applying for "proper jobs" because your business feels hard and relentless.
Maybe you're not making enough sales and your business isn't sustainable, or maybe you're making too many sales and you're at risk of burning out if you don't put some systems and structure in place.
Perhaps you feel isolated and unsure of the next step, you've lost your mojo and it's hard to see the way forward to reach your goals.
I will help you feel less stressed and more balanced. I will help you find more happiness from your work. I am passionate about helping you make a living doing what you love.
I understand exactly how you feel. I've been there.
I know what it's like to have a business you are passionate about. How it feels to struggle for sales in those early days. How it feels to make big decisions about the direction of your business. How it feels to feel isolated and alone while your friends are buying houses and getting promoted. Setting positive goals and reaching them does not have to be challenging!
From award-winning textile design and collections for some of the high street's biggest fashion brands, I realized that my values for sustainability and equality were at odds with the fast fashion industry in which I found myself. I started delivering creative workshops and found tremendous joy in creative community, and from this seed, my idea for Super+Super HQ was born.
With our own 3-storey workshop and business space, my bestie Claire and I created a space for creative businesses to thrive and grow, as well as a venue for workshops, events, and mentoring in the heart of Brighton. The business grew, and I became a regular contributor to Mollie Makes, I ran creative workshops for big brands, became a published author, and a nationally known crochet tutor.
As my business grew, I was coaching other business owners and realised how much I loved empowering other women to. So, I decided to hop onto the next amazing stepping stone in my colourful journey, and I retrained as a professional coach and founded Women Who Create UK.
Now, I champion women in business (like you!) and empower them through creativity and connection. Women who want a fulfilling creative career that brings happiness plus a sustainable income!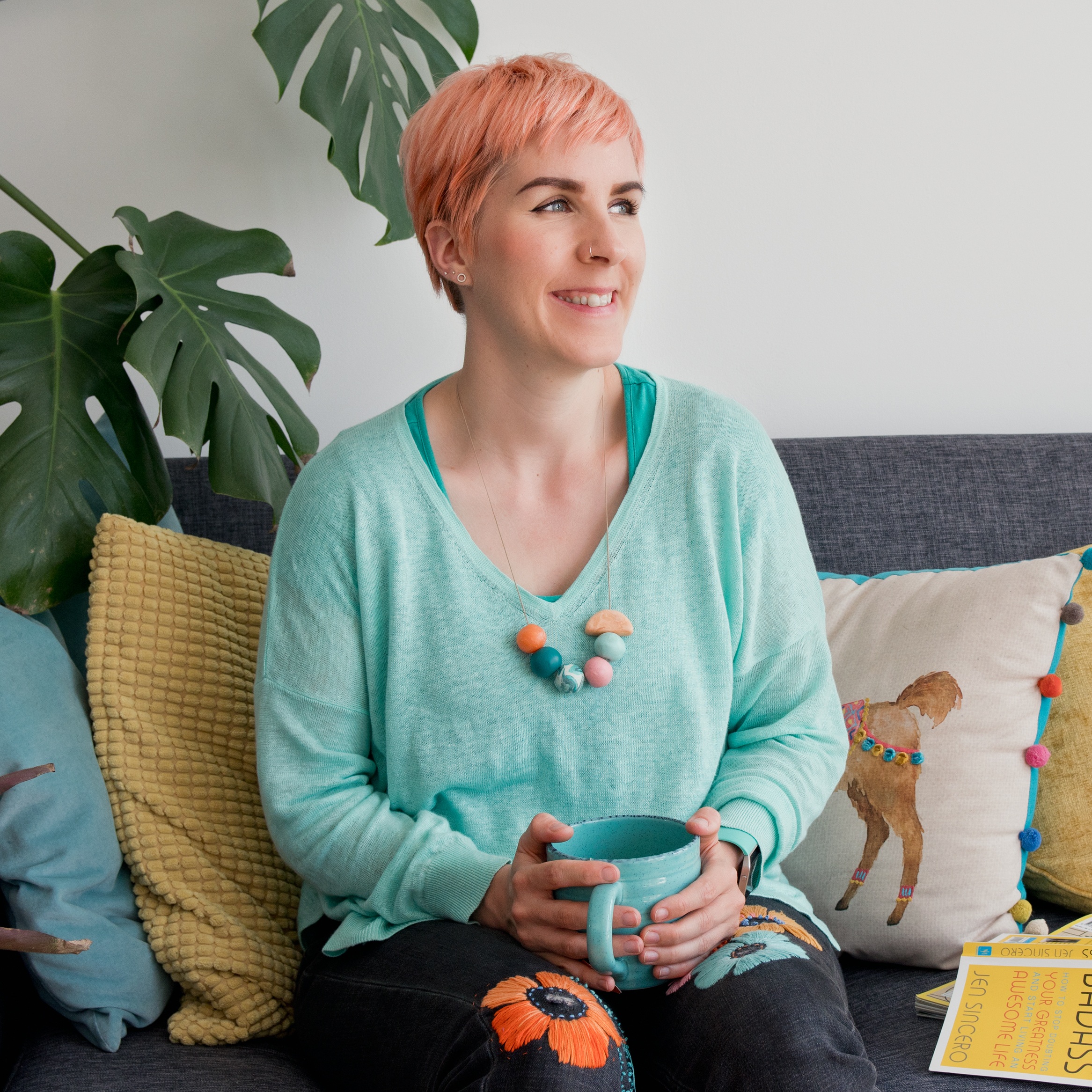 My creative coaching programmes have been carefully designed for creative thinkers, makers, female entrepreneurs, aspiring business owners and multi-tasking creative mavens. For any women who aspires to work more creatively whatever your business or area of expertise may be.
Whatever your goals are, I can support you to achieving them. Whether it's creating a unique vision of your ideal day as a maker, pitching your project to a dream magazine, or designing your next series of award winning in person events, I create sessions that are super positive, filled with wonderful tools such as NLP, and inspire your next steps towards reaching your wonderful goals!
Combining awesome traditional coaching techniques with science based NLP (neuro-linguistic programming) and creative tools such as image facilitation (person centred art therapy) and vision board making but to name a few. Working with me is like having access to a delicious pick and mix of creative techniques to help move you in a positive direction towards achieving your goals and creating positive change in your life and business.
Being your own boss can be hard work and daunting at times, with actionable strategies to inspire more clarity, creativity, and confidence, I have 10 years of experience in the creative industries and have oodles of creative in depth tools to share with you. You'll be on the path to creative freedom in no time!
You're at a fork in the road. Will you keep moving forward with the frantic, or will you make a move towards a more sustainable life & business?
When you imagine yourself in 5 years' time, what do you see? Do you see a creatively fulfilled business woman with a career aligned to your vision and values? Do you see someone who is financially stable, whose business is thriving, and who is content with the direction you're going?
Or do you see someone who is still running the hamster wheel of catch-up? Someone who struggles with cycles of burnout and 70 hours a week? Someone stuck in a feast or famine pattern of sales, who doesn't have time to read a book or go on holiday or take time off?
If you want to create a sustainable life and business, and you're ready to make a change from patterns that leave you feeling exhausted, then you need to work with me.
How does it work?
Sessions are tailored entirely to you and achieving your goals (whatever they may be…) and are super creative! There is always a stack of coloured paper, chalk pastels, and washi tape close at hand to help you plan the inspiring positive next steps you dream of..
Whether you're close-at-hand for in-person sessions, or you're in one of the far-flung corners of the world and would like to be coached via video call (Skype or Zoom), my sessions will leave you feeling creatively inspired and excited for the future.
What will you get?
A personalised Coaching Plan to reach your life or career goals
Clarity, motivation and belief - a clear picture of your goals and where you want to be
Focus - sessions tailored specifically to guide you towards discovering, setting and achieving your amazing goals!
Happiness - an "authentically you" vision of what success feels & looks like
Confidence - increased confidence in yourself, career, dreams and life
Goal setting and action planning
Exercises and tools
Accountability to move you forward
Session notes and reminders
Email support between sessions
+ Access to person centred art therapy skills, performance coaching tools and NLP techniques to create a positive state of mind in which you will thrive!
Investment Options
*NEW sign up for a monthly investment of £195 and get 2 sessions monthly (3 month minimum commitment via direct debit)
3 x 60 minute sessions - £360 (one off investment)
6 x 60 minute sessions - 650 (payment plan available)
What are people saying about my Creative Business Coaching?
Book your no obligation clarity call now, and take the next step towards building your dream creative career.